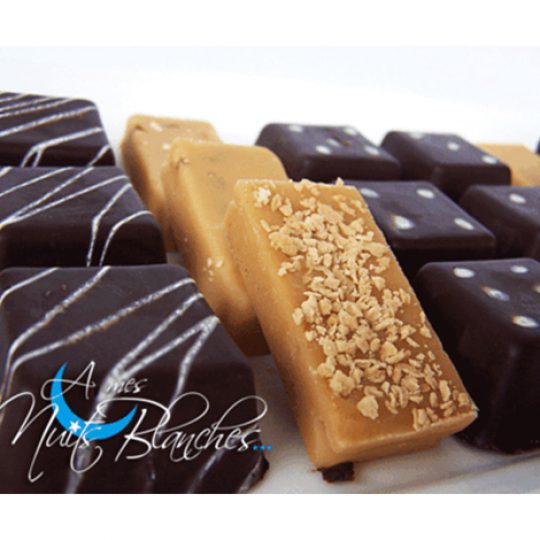 Directions
Instructions for Maple & Cranberry Truffles

Bring the cream to a boil and pour over the chocolate. Leave for 2 to 3 minutes without stirring to allow the chocolate to melt. Blend together and add the maple syrup, then let cool to room temperature.
Add the cranberries and maple flakes, stir and pour into a square pan or chocolate mould. Allow to harden overnight in the refrigerator, then generously dust the top and bottom with unsweetened cocoa. Cut into squares. Store in the refrigerator.
Instructions for Maple Fudge

Place all ingredients – except the nuts, butter and chocolate – in a heavy saucepan. Stir gently until the mixture comes to a boil, then continue to cook without stirring until it reaches 240° F (116° C).
Cool slightly, add the white chocolate and butter and let them melt, then stir until well blended. Divide mixture into three parts. Stir the chopped walnuts into one portion. Stir the maple flakes into another portion, reserving some as garnish for the top. Leave the last portion plain. Pour each mixture into a mould and let harden in a cool place.