Maple Cinnamon Pistachio Granola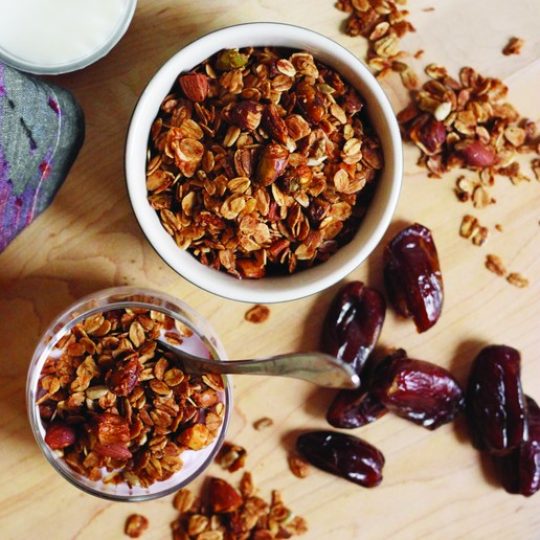 Directions
Preheat oven to 350°F. Line a large baking sheet with parchment paper.
Stir together maple syrup, oil, cinnamon, nutmeg, vanilla and salt in a small bowl.
Combine oats, pistachios, chopped almonds, shredded coconut and sunflower seeds in a large bowl and toss to blend evenly. Add maple syrup mixture to the large bowl and toss with the oat mixture until evenly coated. Fold in maple flakes.
Spread mixture in an even layer on the prepared baking sheet and bake for about 25 minutes until golden brown and fragrant. Stir the mixture after every 10 minutes to cook evenly as it tends to darken quickly around the edges. Transfer baking tray to a wire rack and let granola cool completely before tossing with chopped dates and transferring to a container. It will become more crisp as it cools and will keep for at least 2 weeks in an airtight container. Makes about 4 cups of granola.
Tips
Any combination of nuts will work in this recipe as long as the total amount adds up to 3/4 cup. Try cashews and peanuts for another great variation.