Vanilla Maple Butter Cake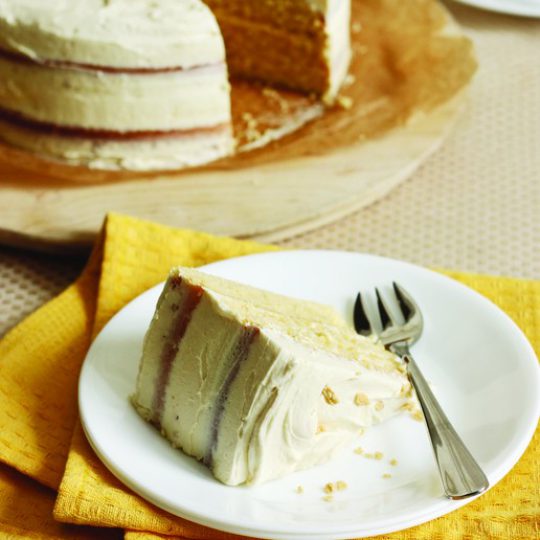 Directions
Preheat oven to 350°F. Lightly grease two 8-inch round cake pans with butter and dust evenly with flour, tapping out the excess. Line the base of each pan with a round of parchment paper.
Instructions for Cake Layers

Sift flour, baking powder and salt into a medium bowl and whisk to blend evenly. Set aside.
Beat butter, granulated sugar and maple sugar on medium-high for 3 minutes until light and fluffy in the bowl of a stand mixer fitted with the paddle attachment or in a large mixing bowl if using an electric hand mixer. Drizzle in maple syrup and vanilla and beat until smooth and fluffy. Beat in eggs one at a time. With mixer on low speed, add flour mixture in two parts alternating with milk. After each flour addition, mix until just barely blended and stop and scrape the bowl as necessary. Finally, mix for 5 seconds on medium speed to ensure that the batter is smooth.
Divide batter evenly between the two prepared pans and bake for 20-25 minutes until lightly golden and a skewer inserted into the center comes out clean. Transfer pans to a wire rack to cool for 10 minutes, then carefully invert cakes onto the rack to finish cooling.
Instructions for Frosting

Beat butter in a medium bowl with an electric mixer until smooth. Beat in maple syrup one tablespoon at a time until it is combined well with the butter. Gradually add sifted icing sugar while mixing until thick and fluffy. Beat in vanilla and then gradually beat in cream until smooth and fluffy. Add melted cooled white chocolate and mix until the frosting is smooth and creamy. Fold in maple flakes. Spread about one-third of the frosting over one cake layer and then place the other layer on top. Spread remaining frosting over the sides of the cake in a thin layer and swirl it thick over top. Sprinkle with extra maple flakes. Makes 8-10 servings.
Tips
This cake also pairs well with your favourite maple cream cheese frosting.
Store this cake in an airtight container at room temperature for up to 3 days.